Sister came back yesterday and she bought me a dress from Haute Couture ( By Eric Choong , Top 10 Malaysian Fashion Designer ) ~ guess what ? Its a kimono dress !!!!!!! i was like OMG ~ Yea , one of the hottest looks of this spring has to be the kimono dress... Elegant for evening, yet casual enough for day wear, the kimono dress is both versatile and flattering ~ Look at these celebrities and models ~ They look good at it ...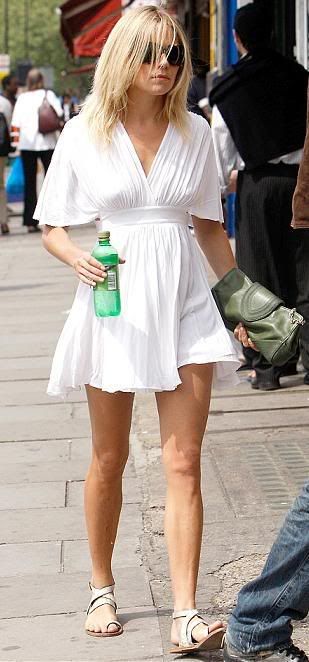 But look at me ? Ewww ~
.
.
.
Yea , i know i look super FUNNY ~ T-T More alike sleep wear when i wear it ~ Also look short and fat ! Gotta find some way to wear it like my style ~ My sis keep on said yea ! wear it ... so pretty ! Im wondering when can i wear it ? U r not expecting me to wear to uni , do you ? Owhh ~ i guess i will be wear it when im with you ~ Oh yaya she asked me to stay with her at KL , she wanna bring me to have a course of facial there ~ Because she cant stand how bad my skin r ~ She wanna turn me into pretty girl ! She said she will fetch me to KL when sem break ~ She said lots of thing ... Promise me so many things , u better do it ! Dont break promise ... Or else i will be very upset ~
Oh ya ~
Hooray ! Sister is back with her *ahhemm* , Alex ~ He is not as shy as before ... Owh he talk to me ~ Before that , argh he just extremely SHY ! Tomorrow my brother will back , ahh he will be super NOISY and ANNOYING ! i will never let him touch my laptop ...
Today they ( Sis and Alex ) will work out with me and jogging with me ... Pray that i will not faint or die ... They were like those sport maniac , muscles everywhere ~ but me ? Fat everywhere ~ ~
*finger crossed*